raw talent...

Yayoi Kusama _Established Talent
Yayoi Kusama _Established Talent
Yayoi Kusama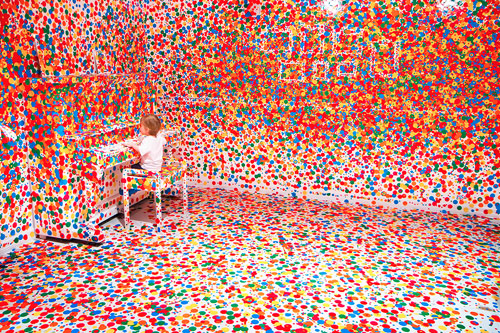 This fabulous Japanese Lady is just simply unique.A Conceptual artist, born 83 years ago in Rural Japan who has long struggled with her mental health,resulting in some amazing and memorable Art in virtually every sense of the word.
Early drawings show some of the most exquisite draftmanship seen- Yayoi Kusama has spanned several decades now breaking boundaries of space using soft sculpture,differing mediums,paint and art.
In November 2008 Christies sold a work, by her, for $5.1 Million - A record for a living female artist.
Yayoi cuts an eccentric figure both vulnerable and obessive in her subject matter ,which has resulted in some truely innovative work that has inspired some very well know Art today- notably her Spot,Nets and use of Mirrored space installations.
At
Tate Modern
in London Yayoi Kusama in 2020 has an exhibition Not to be missed - Stretch the imagination.
I would love to feature some of her work at our showrooms but alas cannot - but I can here. Enjoy.
Click on a feature artwork for purchasing options.
Visit us
at Elizabeth and Stevens Ltd, The Showrooms, Great North Rd, Markham Moor, Retford, Nottinghamshire, DN22 0QU
the E&S blog
Chelsea flower Show 2020
I know in the scheme of things it may seem trivial at the moment .Very sad to hear that Chelsea will…
Read More